Special Correspondent Stephen Bugno took a trip north to Fairbanks. Here is his report.
All roads lead to Fairbanks. Wait, that's Rome. All kidding aside, three highways lead into Fairbanks. That's more than most Alaskan towns. We'll focus on a road trip to Fairbanks from South-Central Alaska, north on the Parks Highway. If you're driving from the Mat-Su Valley, Anchorage, or points further south on the Kenai Peninsula, here're our favorite stops along the way.
Mat-Su Valley: Lunch and Resupply
Wasilla is your last stop to hit up a supermarket before you go into the wilderness of the Denali area. It's a 6+ hour ride from Anchorage to Fairbanks, and that's if you drive straight through. And driving straight through is definitely not our style. You should savor the views along the Parks Highway to Fairbanks.
Choose between Fred Meyer, Carrs, or Walmart for groceries and your favorite beverages. Turkey Red is a favorite lunch stop in Palmer or Bearpaw River Brewing in Wasilla is a great new brewpub to 'hydrate' your traveling companions while getting a good lunch yourself before venturing further north.
Further North to Talkeetna
Most of us would want to spend at least a night or two in Talkeetna, which is another 1.5 hours up the road from Wasilla. Talkeetna is one of Alaska's finest historic towns enjoyed by both local and out-of-state visitors. Stop to browse the souvenir shops and say hi to Denali the (cat) Mayor in Nagely's Store. See the 20,310-foot high Denali from the banks of the confluence of the Talkeetna and Susitna River, a short stroll from downtown.
If you've got more time, go out on a jet boat ride with Mahay's, an ATV adventure with Talkeetna ATV Tours, a fishing excursion with Phantom Tri-River Charters, or flightseeing with K2 or Talkeetna Air Taxi.
For good eats and live music, I love Mountain High Pizza in downtown Talkeetna. On the way out of town, I always make a point to stop at Flying Squirrel Cafe for excellent baked goods. And now Denali Brewing Company is serving food (along with delicious beer) at its taproom along the Talkeetna Spur Road. For a less obvious choice, stop into Cubby's Marketplace at the intersection of Spur Road where the Deli ladies concoct some of the most delicious, best-value subs in the state. Trust me on this, you'll never eat at Subway again.
One last stop before you get back on the road. Alaska Birch Syrup & Wild Harvest is located close to the intersection of Parks Highway and Spur Road. They have excellent Alaskan-made products as well as their own birch syrups and other birch products. Take an extra 10 minutes for their brief tour to learn how birch syrup is made.
Parks Highway Going North
Back on the Parks Highway driving north, make a note to stop at Denali Viewpoint South. If it's clear, you've got a direct view of The Great One. This is the easiest-access best view of North America's highest peak.
If you have more time, hike the newly rerouted Curry Ridge Trail. The trailhead is located up the next right-hand turn, towards K'esugi Ken Campground. It's a steady hour-long climb up to the alpine, with fabulous views of the Alaska Range along the way. Count on about 1,000 ft of vertical gain along the way. It's a wide, well-marked trail with switchbacks great for families.
Continuing to the Denali Area
As you continue driving north, stop at Denali View North for another, slightly different view of Denali Peak. There are also some camping spots here for tents or big parking spaces for your RV or van. If you've got energy, hike nearby Little Coal Creek Trail. This is another trail to get you up to the alpine ridge for backpacking or just a day hike for excellent views of the Alaska Range.
The highway continues through Broad Pass and the small community of Cantwell. Make a mental note to come back another time to explore the gravel Denali Highway which goes 135 miles east to Paxton. For this trip, continue north on the Parks Highway to Carlo Creek. Here you've got two great choices to eat and some budget accommodation options. Eat at McKinley Creekside or The Perch. Look at Denali Hostel & Cabins or Denali Perch Resort to spend the night.
If you're planning to visit Denali National Park, you'll need at least two overnights. If you're driving through, you can opt to explore the first 15 miles with your own vehicle. If you want to go further into the park, you'll have to join a park bus tour. There's plenty more to do in the Denali area, but we'll keep truckin' northward after stopping at the Black Bear for coffee, breakfast, and some baked goods.
From Healy to Fairbanks
After leaving the bright lights of Glitter Gulch (Denali Boardwalk), you pass through Healy after 12 miles. Healy is a small year-round community where you can fill up your gas tank and fuel your body for the remaining two hours to Fairbanks.
49th State Brewing is an obvious choice and Denali Totem also serves up good home-style food. For the overnight, check in to the Totem Inn, Aurora Lodge, or one of the dozens of B&Bs.
If you like the small-town vibe, make a pit stop in Nenana, situated along the Nenana River. This is the home of the famous Nenana Ice Classic. Stay overnight at the Nenana RV Park & Campground.
Enjoy the views and watch the landscape change on the remaining hour drive into Fairbanks. While I won't be moving to Fairbanks in this lifetime (see extreme climate), it is a unique destination in our state's interior and I love visiting.
Fairbanks has world-class Aurora viewing, rich Alaska Native culture, abundant wildlife, lots of outdoor activities, and authentic Alaskan activities and attractions. Oh, and it's a great place to see migratory birds!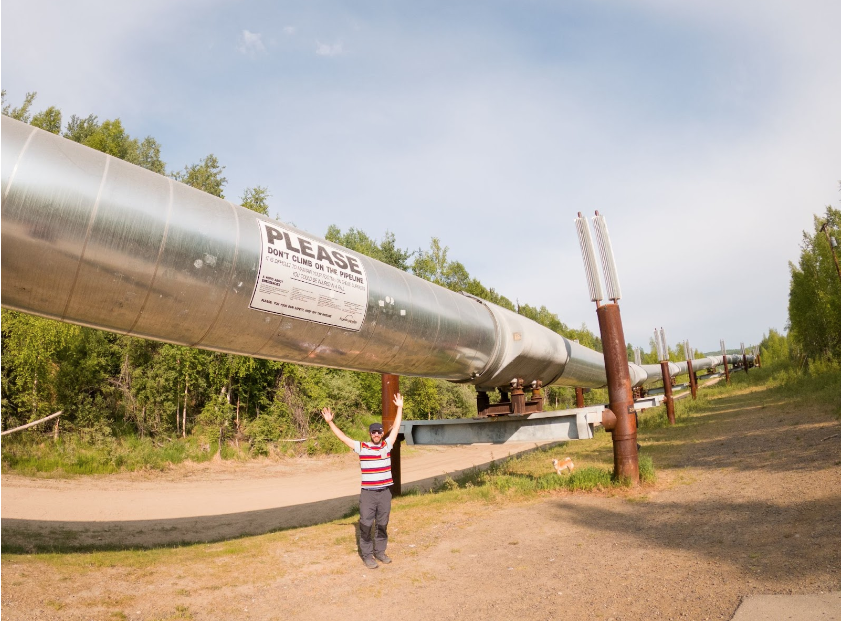 Make the Wedgewood Resort your home base for exploring Fairbanks. They have nice walking trails nearby and are situated next to Creamer's Fields, where you can see the Sandhill Cranes in spring and summer. It's also next to the extraordinary Fountainhead Auto Museum.
The Fairbanks food scene is better than you might think, so arrive hungry. And here are just a few ideas for a day itinerary in Fairbanks.