SPECIAL CORRESPONDENT Jennie Flaming of Ordinary Adventures is a born-and-raised fourth-generation Seattleite and former Alaskan living back in her home, Seattle. She writes about outdoor adventure and travel in Washington, Alaska, and Western Canada. She recently spent a weekend in Sitka with friends from Anchorage, and this is her report on how to spend two days in Sitka, Alaska.
2 Days in Sitka, Alaska: The Perfect Sitka Weekend Itinerary
I've got the perfect weekend in Sitka itinerary for you – including the best food, views, and some great nature spots outside the city!
Sitka, Alaska, is one of my favorite places in Alaska! Like all of Southeast Alaska, it's stunningly beautiful. It also has many local shops and spectacular restaurants without being as crowded with cruise ship passengers as other ports along the Inside Passage.
Flying to Sitka
It's a short Alaska Airlines flight (20 minutes) between Juneau and Sitka
My friend Jamie wisely suggested we rent a car. There are only 14 miles of road in Sitka, but we were there over a weekend when the bus wasn't running (weekdays only) and wanted to be able to explore "the road."
After checking into our Airbnb, we explored the town while the sun was still shining.
Food Trucks in Sitka, Alaska
Our first stop was Ashmo's food truck which has incredible seafood – I had fish and chips and smoked salmon mac and cheese, both of which I highly recommend.
Others had fish tacos and fish sandwiches, which they reported were amazing. There was a line, and we had to wait a bit, but it was worth it.
Russian Orthodox Church in Sitka
Afterward, we walked around town and checked out the beautiful Russian Orthodox St Michael's Cathedral, which you can go inside for a small donation.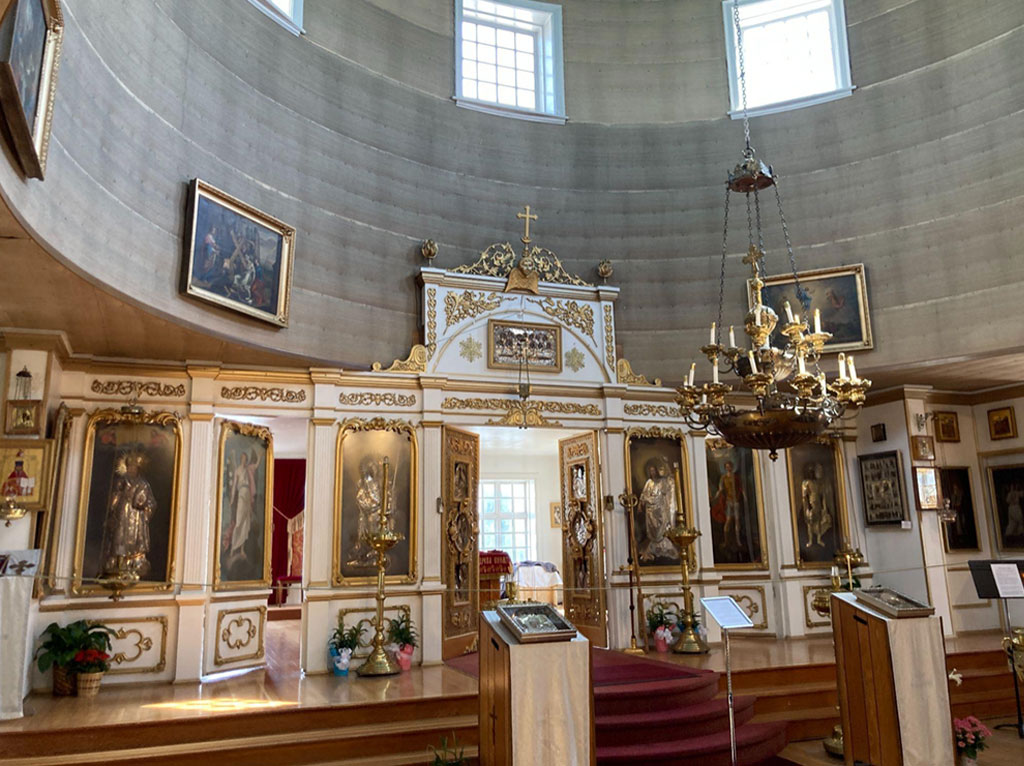 Take A Hike in Sitka
Since it was miraculously sunny, we decided to take advantage of it and go for a hike. The forecast indicated rain coming in, but we mainly stayed dry on the way up Gavan Hill. The first part of the trail is gravel and perfect and connects to the Sitka Cross Trail network.
Once we started up the Gavan Hill trail, it was a steep climb on a combination of wooden steps and muddy rooted sections. I was very happy I brought my hiking poles; it made it much easier!
After climbing up about 1400 feet in 2 miles, we reached the overlook just as the rain started.
Even though it started raining at the overlook, we could still see some of the views.
Things got a bit slippery on the way down with the increasing rain on all the roots and mud on the trail, so we felt very accomplished when we got back to the bottom.
Pizza and Beer at Harbor Mountain Brewing Co. in Sitka
After a hike, finding beer and pizza was mandatory, so we headed to Harbor Mountain Brewing Co. to try the local beer, which we all agreed was delicious!
Campfire Pizza is in the same building and serves some seriously fantastic pizza. They even had a smore calzone for dessert, a pizza crust with marshmallows, graham crackers, and Nutella inside, also AMAZING. Don't skip dessert here! The four of us shared it, and that worked out great.
Breakfast in Sitka
Jay and I are always looking for an excellent breakfast sandwich or burrito, and we found a real gem at the Wildflower Cafe. Amazing breakfast sandwich and coffee!
Sitka History
We decided to make our first full day in Sitka a history day since Sitka has a fascinating history. Sitka is the first capital of the Territory of Alaska (1867-1906) and the capital of Russian America (1808-1867), with plenty of old buildings and lots to learn about its complicated history!
Next, we headed to Castle Hill to Baranof Castle State Historic Site. At one time, there was a mansion on this hill, which is long gone. In its place is an open area with a great view.
Castle Hill marks the spot where the Russian flag was lowered, and the American flag was raised in a formal transition of power of Alaska from Russia to the United States.
This is also the first place the American flag with 49 stars was raised in Alaska after statehood (I learned this fun fact from the Quest for the Ultimate Alaska Adventure!). The 49-star flag only lasted a year until Hawaii became the 50th state.
In addition to the history and the flag poles, Castle Hill also has a pretty good view of Sitka Sound and the town of Sitka.
We walked through town on the Seawalk, a paved and flat path along the harbor just under a mile long. There are many signs with maps and different points of interest showing you how far they are from your current position, making Sitka super walkable and easy to navigate on foot.
I'd say if you're going only to do one thing in Sitka, make it a visit to this beautiful park! A mix of forest and rocky beaches, the trails are wide and flat and meander among an impressive collection of totem poles from Southeast Alaska.
The totem pole collection here started in 1904 and includes poles nearly 100 years old and some that were carved more recently.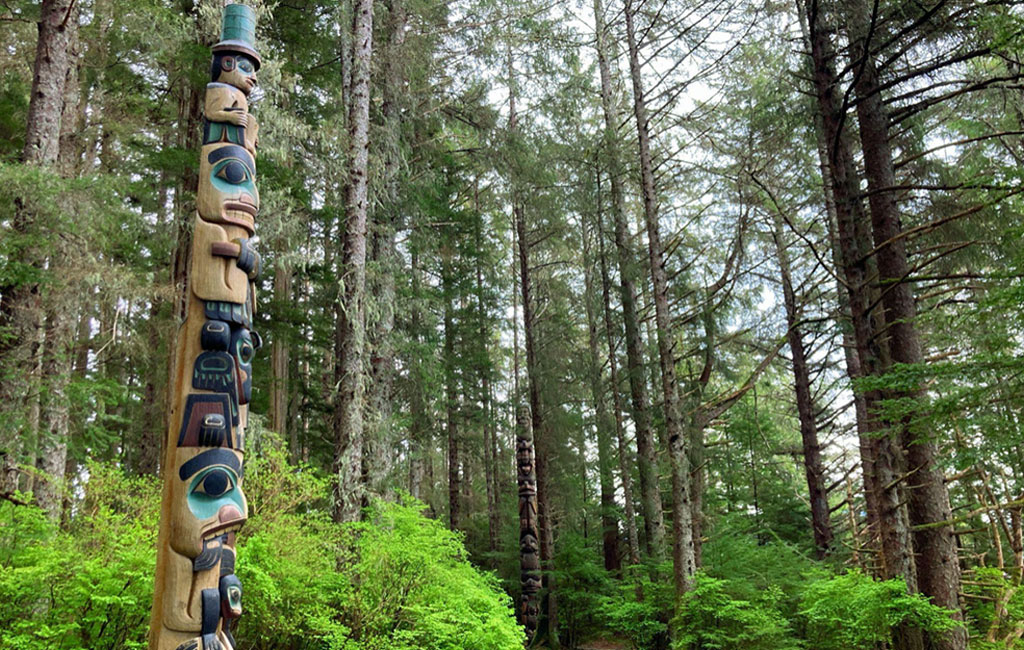 Sitka National Historical Park
We took a hike that started at the National Park Service Visitor Center. The trail is one and a half miles long and takes you through rich coastal forests along a salmon stream. The views of the shoreline and coastal mountains and breathtaking.
It also travels past totem poles and memorial sites, including that of the 1804 Battle of Sitka.
After exploring the park, we headed back toward town and stopped at the Sheldon Jackson Museum and the Sitka Sound Science Center.
We also had lunch at Ludvig's Chowder Cart next to the Science Center. We had delicious chowder and smoked salmon sandwiches and sat at the picnic tables outside since the sun came out again; yay!
Shopping in Sitka
We spent the rest of the afternoon exploring the shops in town and particularly loved Old Harbor Books, a wonderful independent bookstore, and the Island Artists Gallery. The gallery has art from several local artists, from painting to photography to sculpture, jewelry, and more.
We spent a long time chatting with the artists until we got hungry again.
For dinner, we went to BeAk (Beak) Restaurant (Beak = Be AK, get it?!), a local favorite. The food was excellent, and they had a small porch for outdoor dining.
It was a bit chilly for outdoor dining, but the heaters helped with the covered area since it was raining again! We all had various local seafood dishes, and they were all incredible.
The next day (Sunday) was our last full day in Sitka. We decided to spend this day using our rental car and exploring the road and parts of Sitka that were too far to walk.
We started the day with perhaps the best cinnamon roll I have ever had from the Backdoor Cafe (behind the bookstore) and more coffee.
Visiting Fortress of the Bear in Sitka
After breakfast, we hopped in the car and drove to Fortress of the Bear, a must-see for bear lovers and photographers. Jay and Jamie are super into photography and had a blast taking pictures up close for hours without worrying about safety!
I will say that when the brown bears decided to growl (they smelled their meal being prepared), it was still unnerving! Cruise ship tours go to Fortress of the Bear, though none were there during our visit, so we had the place to ourselves.
After spending a couple of hours at Fortress of the Bear (you won't need that long if you're not traveling with a photographer), we explored the road a bit more and then headed back through town to the other end of the road.
We passed the cruise ship dock and the ferry dock before arriving at the end of the road. Here we decided to do another short hike around the Mosquito Cove Trail, another trip highlight.
The trail winds through the forest with some wooden steps through some big trees and out to peaceful Mosquito Cove.
The loop was only about 1.5 miles with a couple of hundred feet of elevation gain. If you want more hiking, several other forest trails connect to it. There were some nice campsites near the trail too.
After getting back to town and relaxing, we got pizza at the Mean Queen, including trying one of their deep-dish pizzas, which was incredible!
In the morning, we found another excellent breakfast sandwich (breakfast bagel this time) at Highliner Coffee and more tasty coffee.
Tidepooling in Sitka
Our flight left just before noon, but there was a super low tide that morning. We decided to do some tidepooling (one of my favorite activities anywhere) before going to the airport.
We headed to Halibut State Recreation Area and wandered around the beach, exploring the low tide. We saw several tidepool animals, including my favorite, the Sea Star!
By late morning it was time to head to the airport to head back home. This time we stopped in Ketchikan on the way back to Seattle, and the weather was a bit more….typical.
But we had time to get Ketchikan Airport popcorn, which always makes the stop worth it!
Though we didn't do any organized tours in Sitka on this trip, this is an excellent place for whale watching (I've had some fantastic whale watching experiences here in the past), as well as fishing charters and kayak tours.
Sitka is a beautiful Alaskan city, full of things to do, see, and eat, no matter what you enjoy doing.
I hope our guide to a fantastic weekend trip in Sitka will help you have the time of your life on your next vacation.  
Find The Best Travel Deals To Alaska
From Anchorage to Utqiagvik, Alaska Travelgram can help you save money on your next flight to Alaska. You have found the original Alaska discount travel website with the best deals on airfare and lodging.
Since 1999, Alaska Travelgram has been dedicated to delivering the best travel deals. You can find last-minute travel deals and quality information about all the top vacation spots in Alaska. We love travel deals, don't we?
Sign up for our weekly newsletter, and visit our Travel Deals page to learn how Alaska Travelgram can help you save money on airfare, travel packages, Alaska resident travel deals, and last-minute travel deals to Alaska.